English horseback riding lessons are offered five days a week with either head trainer, Krissan Barber or an assistant trainer. We welcome ages 5+ and all riding levels. Students are taught everything from proper horse care, horse handling, grooming, tack care, and move up into advanced riding and jumping.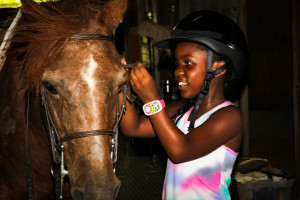 Beginner lessons include tack up time, riding time, and untacking, bathing and tack cleaning instruction. Beginners will be taught and supervised throughout this time, until they are independent, at which time they can be placed in a group lesson with appropriate riding levels, and ride for 1 hour.
For riders who are more serious about their training, we offer each one of our riding academy horses and ponies (based on availability) for lease or half lease.
Riders with more advanced abilities or those that may own their own horse have training, showing and lesson packages available to them as well.
We also attend many shows that all riding levels are welcome to attend. If you are interested in showing with us, please let us know!
Lesson paperwork below is needed before lessons can start. Clients are welcome to bring the copies with them to the first lesson, or to scan and email to blackjacklane@gmail.com.
Be sure to check out our FAQ page for more information.
Lesson Paperwork (download, print and sign)