Blackjack Lane Equestrian began in 2012 out of a need for an exceptional hunter, jumper, equitation and dressage trainer and facility on the east side of Houston.
When Krissan and Adam Barber moved to the Houston area in July of 2012, and needed to settle just east of Houston due to Adam's job, Krissan realized there were no english trainers or facilities within a 30 minute radius.  Having just moved from an "AA" and "A" show barn in California where Krissan was an assistant trainer for McIntosh Stables and worked under Olympic veteran Colin McIntosh and his international Grand Prix rider wife, Toni McIntosh, Krissan missed her teaching and saddle time.
After only a few short weeks without horses, Krissan set out on a mission to find a barn to hopefully ride and teach at.  She happened upon Peacock Stables in Baytown where Blackjack Lane Equestrian was started.  After a short 6 month transition from Peacock Stables, which was previously a western training facility, Krissan and Adam officially started Blackjack Lane Equestrian LLC. in January of 2013 and began operating under the name in March.
We have since moved a few minutes away from Baytown, to our own private facility in La Porte, Tx where Krissan and Adam live on site, along with their 2 year old daughter Finley.
About the Name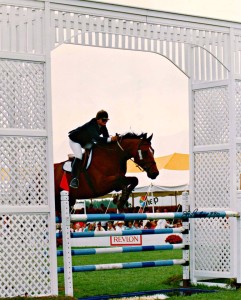 Blackjack Lane Equestrian was named after a few important figures in Krissan's life.  "Blackjack" came from her first horse named Blackjack Magic, a big black Thoroughbred gelding whom Krissan still has, retired at her parent's farm in Atlanta, Ga.  "Lane" came from her childhood trainers, Barry, Nancy and Debbie Lane of Full Cry Farm.  Barry passed away while Krissan was a junior and Ms. Nancy Lane passed away in 2011.  Since there were no more children to carry on the lineage or training techniques of the Lanes', Krissan wanted the name and legacy of Barry and Nancy to live on for many more years.  Thus the name "Blackjack Lane Equestrian" was born!