Meet the Blackjack Lane Family
Krissan Barber – Head trainer and owner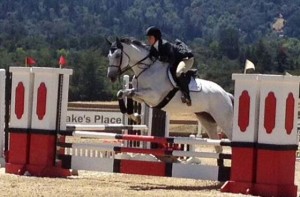 Krissan has 17+ years of experience in hunters, jumpers, dressage and especially equitation. She started riding as a young girl and advanced quickly to showing on the "A" and "AA" circuits throughout the southeast with nationally known and loved trainers Nancy and Barry Lane of Full Cry Farm. After competing successfully in the equitation divisions as a junior, she made the University of Georgia's Varsity Equestrian Team where she was on scholarship for four years. While on the team, she trained under Jennifer Newman, Logan Fiorentino and Meghan Boenig where the team won three National Championships and three Southeastern Conference Championships. She also received the Coach's Award for the 2008-2009 season.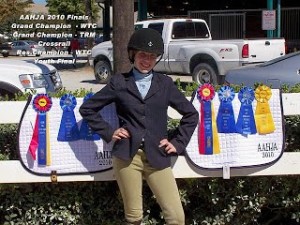 Having gained so much from the equestrian sport and having such wonderful mentors, Krissan began her dream in 2009 of becoming a trainer, coach and mentor. She started her own training program out of Triple S Farm in Danielsville, Ga where clients consistently took top honors in their divisions and at end of the year banquets. Life then moved her to Indianapolis where her training business took root for a short time. When her husband, Adam Barber, got promoted, they picked up and moved across the country to the San Francisco Bay Area. She began working for a top show barn, McIntosh Stables, as an assistant trainer and barn manager. She worked for a year under New Zealand team Toni (an international Grand Prix rider) and husband Colin McIntosh (a member of the New Zealand Olympic team) where she gained invaluable knowledge and experience.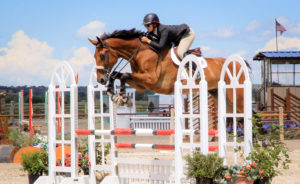 Today, Adam's job has brought them to a more permanent place here in the Houston Area where Blackjack Lane Equestrian was born! Blackjack Lane is a family environment where they aim to have a great time, while still challenging the students and their equine teammates. Patience, verbal instruction, demonstration and positive reinforcement are the keys to Krissan's success with her students. She strives build a wonderful relationship with each one of her clients both in and out of the arena. In just a few years, Krissan has built Blackjack Lane into a USHJA Recognized Riding Academy and is the 2017-2018 Zone 7, Region 5 Interscholastic Equestrian Association President. Come check her and Blackjack Lane Equestrian out!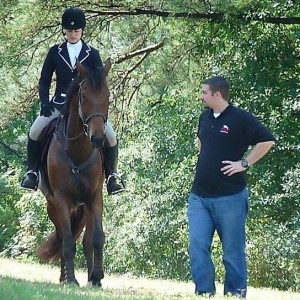 Adam Barber – Head horse husband and owner
Adam is an invaluable member of the team and is the glue that holds everything together!  He is everyone's barn dad and can always be seen working hard around the barn and at shows.
Carissa Larson – Assistant Trainer
Carissa grew up in South Florida where she was exposed so most of the world's top riders in competition. Though she had been bitten by the horse bug before she could talk, this exposure had fueled the desire to ride with the Greats in the industry.


By age 15 Carissa had been given the reins to a small, family friendly, Huntseat Equitation facility as barn manager. Her education was allowed to blossom through her working student internship, where she became well versed behind the barn doors in horse health management as well as the ins and outs of property maintenance. Even though she didn't have the funds to truly compete on the 'A' circuit, her trainers were kind enough to supply horses for her to ride and train. It was long before people started to notice that she had a knack for communicating to her mounts the goals she had set as well as accomplishing each of them in a timely fashion set forward, and her skills were commissioned. Unfortunately, coming into her 18th birthday, her trainer had decided to sell the facility she had spent five amazing years learning and growing. The new owner had ultimately decided to cut the internship program.
Catch riding here and there, she was able to compete on the 'A' Circuit for a short time, as well as work indirectly for the current US Olympic Dressage Coach, Robert Dover. This made her understand the gruelingly perfect turnout that was expected of every horse, not just the top horses in the world. However, she continued to feel as though she was missing. Like a hole in her education. Carissa decided it was time to back her skills up with paperwork and attended Meredith Manor, an accredited Equine Technical school. She graduated with certificates in Teaching, Training, Master in Riding and Equine Massage therapy.
Shortly after graduating Carissa took a barn manager internship with, at the time, the US Olympic Dressage Coach, Anne Gribbons. Working with that caliber of Equine Athletes and Riders was privilege that she never took for granted. Riding top level Dressage horses and feeling the power and knowledge they possessed is one of the biggest reasons why Carissa believes so firmly in flatwork for her hunter/jumper prospects.
Down the road, she established strict guidelines for her students to follow in order for them to become the best possible riders they could at every stage at a facility she operated. Her heart and soul were poured into each and every student and horse for several years. She built a successful program by herself with far more students then she could have dreamed. It was with an extremely heavy heart that it had to be given up, due to the farm owners' retirement and fire sale of the horses and ponies she put so much time and effort into. Thankfully, she was able to place her students into knowledgeable hands. To this day, her riders can be picked out of a crowd by their strong and steady leg.
She brings with her to Blackjack Lane Equestrian and its riders years of experience in Equitation, Hunter/Jumper and Dressage. Carissa plans to mold her fascination with fitness by earning her Bachelor's Degree in Exercise Science to encourage and teach equestrians that they too are athletes. She does not stop there. She also plans on her young Oldenburg to be registered as a Premium Oldenburg Stallion, siring some of the most elite and rare bloodlines being sought after even by some of the choosiest Europeans before making his way into the Hunter Derby world. She will be establishing herself back into the show ring with her Schoolmaster Holsteiner after his arrival in Texas.
Fun horsemanship is serious and serious horsemanship is fun.