We are happy to announce "Uschedule", our new online scheduling system for Blackjack Lane clients! Clients will have their own accounts where they can see all upcoming lessons and have control over their schedule to add, cancel or change services as necessary. You must be a current client and be logged in to see available services. You will be emailed a username and password, which you can change once you log on to your account. Blackjack Lane administrators may have already added upcoming lessons to your account that you will see when you sign on.
Follow these instructions to get started!
Go to the Client Portal on the Blackjack Lane Website and click the "Login" button on the Uschedule app navigation.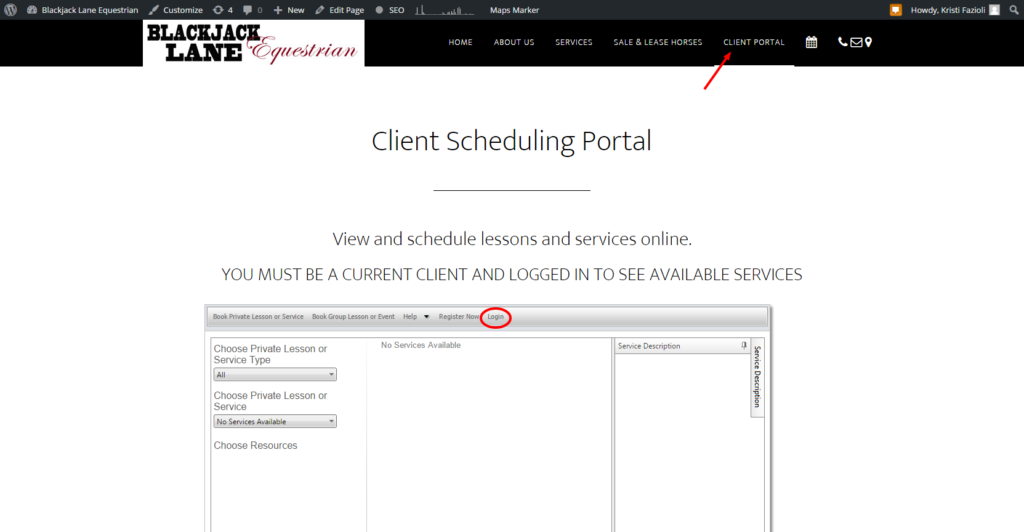 Important Note: Always use the Uschedule navigation while using the app, either the menu across the top of the app or the "Back" button on the bottom, as the main website navigation does not control Uschedule!

Once logged in, you will be able to access your account to see and edit your personal information and upcoming appointments.  During your first login, please check your personal information under "Manage My Profile" and set your notification preferences under "Manage My Options".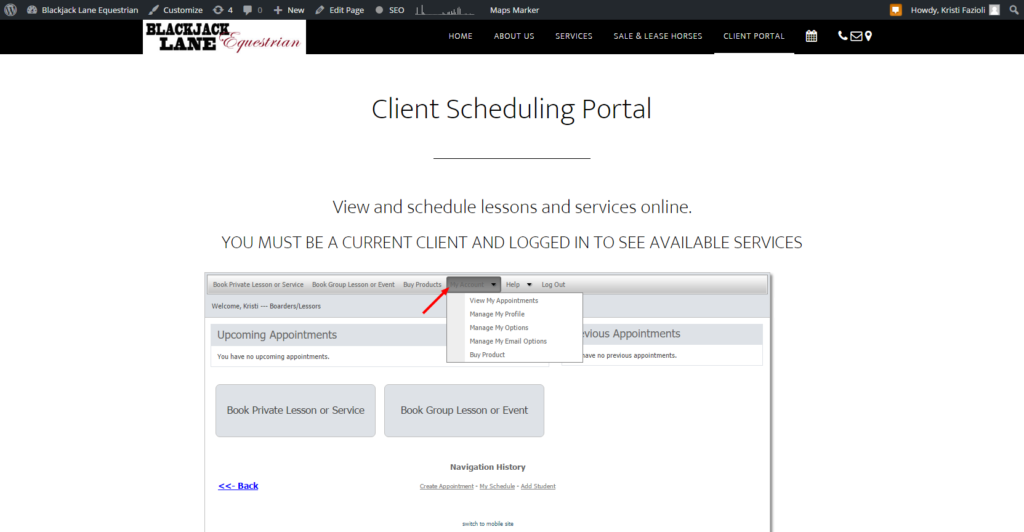 To book services, follow one of the booking links:
"Book Private Lesson or Service" = This allows you to pick from available open times to book a private lesson with a specific instructor, or to book other services such as a training ride for our boarders.
"Book Group Lesson or Event" = This allows you to book into a pre-set time for a group lesson or to get your name in for a horse show, farrier visit or similar event.
How to book a Private Lesson or Service
On this page you will choose a payment type (see below for more details), the type of service you are booking, who you are booking with and choose from the available dates and times for that service (use the calendar to choose a day and the times will appear underneath). Once your choice is made, simply click the "book private lesson or service" button and a confirmation page will appear. Please leave any comments or special instructions in the notes box.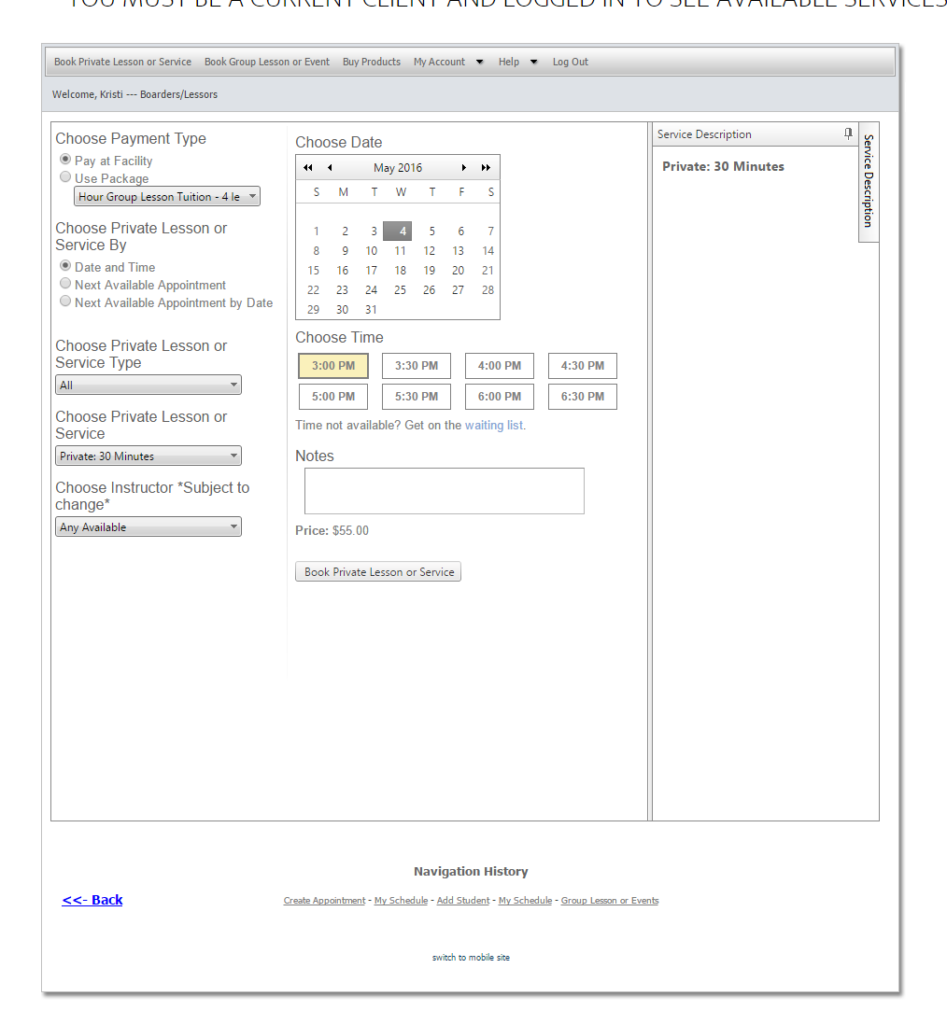 How to book a Group Lesson or Event
This booking page will show you a calendar of upcoming scheduled group lessons and events. You can change your view to a list if you prefer. You will only be able to see and book lessons that are appropriate to your training level. Click on the lesson or event that you want to sign up for and it will take you to a booking page where you can choose your payment method and confirm.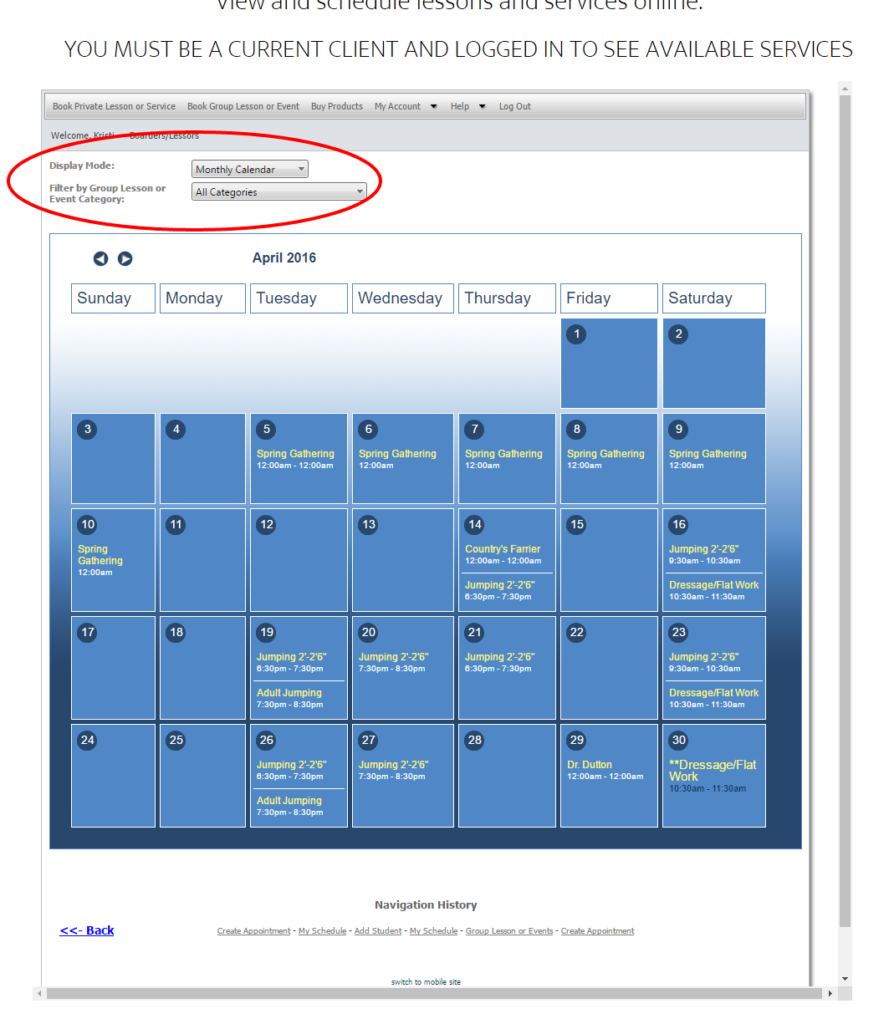 Payment Options
When booking any service or group lesson, you will be given the choice to use your lesson tuition or training package to pay for it if your choice is allowed in your package and you are set up with a package for the month. Otherwise, if you are adding an additional service or lesson outside your package you will need to choose "pay at facility"or "pay online with credit card".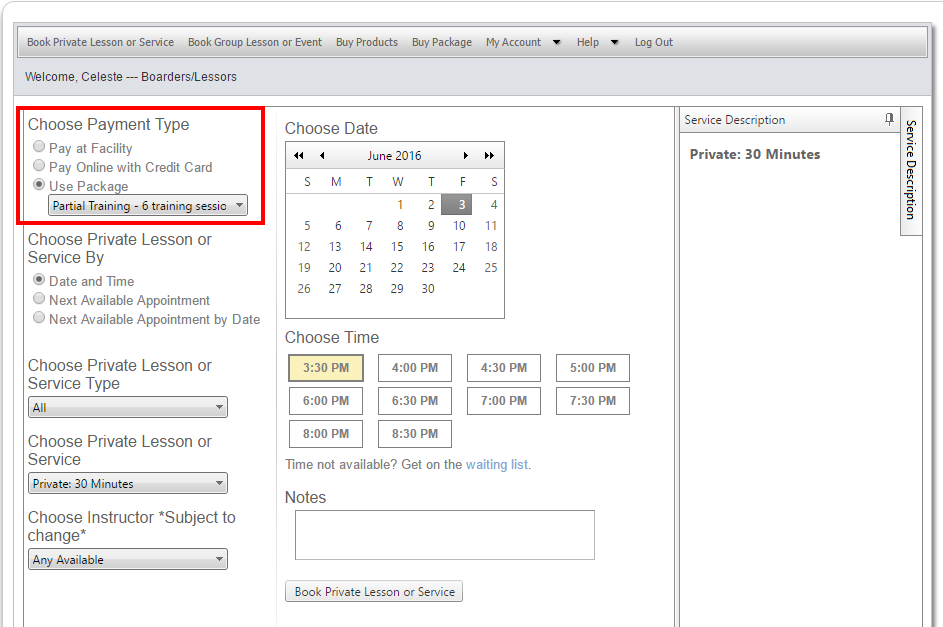 Purchasing Monthly Packages Online
Online credit card payments are available for lesson tuition along with partial and full training for our boarders.  Please note that there is a convenience fee associated with using all online payments.  Should you choose to pay at our facility with a check or cash, you will need to wait for us to apply your payment and allot your package to you prior to booking.  Payments MUST be received prior to booking your lesson.  Lessons will not be given to clients who are not current with their tuition payment.
1) When you log in, you will see a "Buy Package" option in your header menu.

2) Click on 'Buy Package' and a new browser window will open where you can choose your desired tuition or training package. *NOTE* If you are a boarder or lessor, your price will be adjusted at checkout
3) The next page will show you information about your chosen package. Click "Buy" to pay now or "Add to Cart" if you have multiple items you would like to purchase.


4) Enter your credit or debit card information and click "Confirm and Pay". *NOTE* This is where you will see your price adjustment if you own or lease, and the convenience charge as "tax".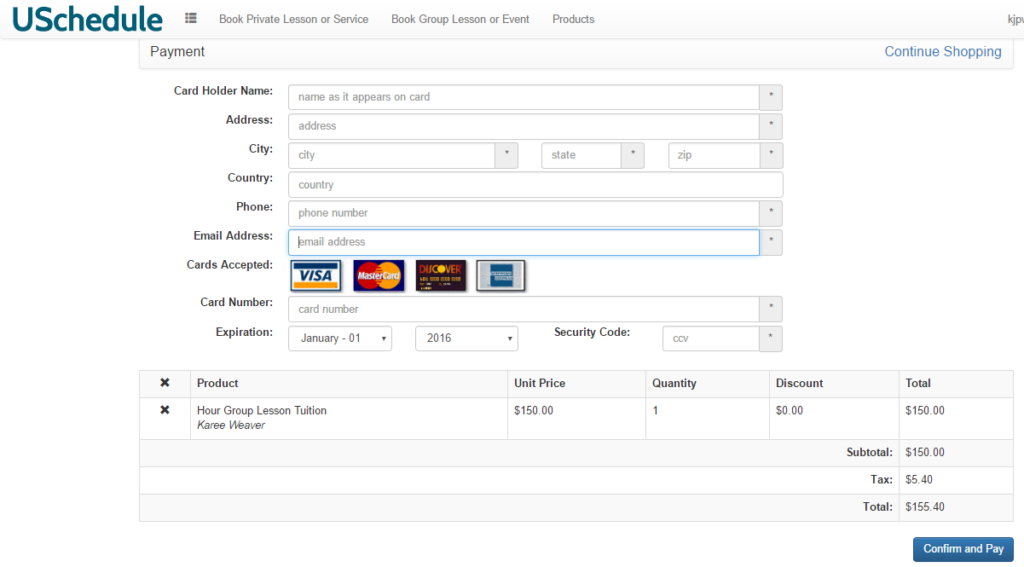 Remember: You can go to your Account at any time to view upcoming appointments. You may cancel appointments up to the day before. We appreciate your patience while we transition to this system and hope that it makes scheduling and keeping track of our busy barn lives a little easier for everyone!